Creating a Smarter Future, Better World with Henry Clayden-Rose
Henry Clayden-Rose started his journey with SAGE Automation while still studying at university as a part of SAGE's graduate engineering program. Since then, he's called SAGE home – advancing his career while becoming an integral part of the transport team.
Initially gaining work experience in transport through his involvement with the grad program, Henry diversified his industry knowledge – completing his university honours project in manufacturing. Henry was among the first students to work on Industry 4.0 improvements at SAGE, finding ways to integrate the 'digital twin' into manufacturing control panels.
Now working as a full-time Systems Engineer, he's moved back into SAGE transport and delved into smart cities – continuing to expand his career to include his passion for transportation, managing a team and helping people. It's no surprise Henry is thriving at SAGE.
Henry in front of SAGE Automation smart transit hub, Matilda.
Nurturing passion for a smarter future, better world in a hands-on role
Essentially jumping straight from university into a full-time role with SAGE, Henry started work as a junior engineer with the transport team focusing on future mobility.
Henry is passionate about autonomous vehicles – it's part of the reason he joined SAGE – and he understands the importance they play in society, especially when it comes to future mobility and accessibility in transportation engineering.
Henry was given the opportunity to support this passion early in his career through his work on the smart cities Matilda project. Matilda is the world's smartest transit hub, catering to people with specific needs by prioritising accessibility, community engagement and providing a first and last mile transport solution.
"It's really exciting that SAGE is invested in technologies, data and processes that are all geared towards making more efficient and safer communities for all," Henry said.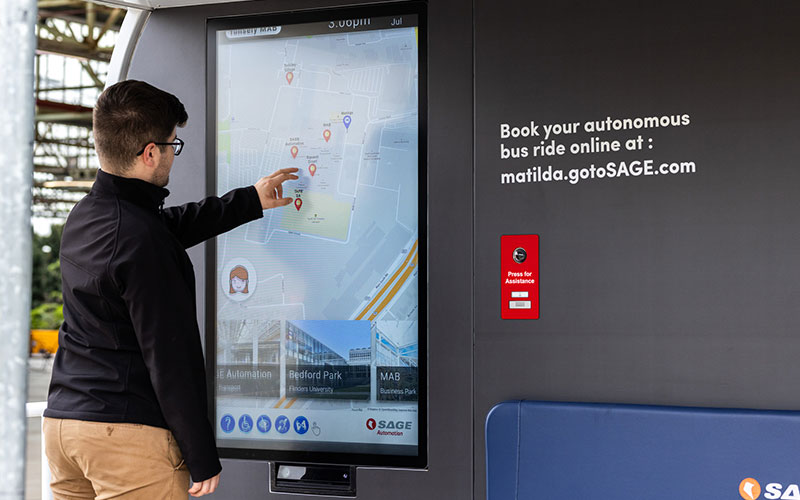 Henry illustrates the wayfinding functions on SAGE's interactive digital kiosk onboard Matilda.
Henry understands the limitations and drawbacks of the transport sector, particularly when it comes to public transport. Although not legally blind, he experiences vision loss and was unable to get his driver's license (until recently) alongside his friends during high school.
Accessibility is a key focus area in several industry areas – including smart transport – both by the sector players and with the help of innovative solutions providers, such as SAGE. Faster transit times, less congestion and preventing congestions, assessing weather, better accessibility and creating safer road environments in the community are all on the agenda.
Henry has had a hand in several autonomous vehicle trials through his work with SAGE. In the Holdfast Bay trial, he played a part in the first integrated driverless technology trial. In this trial, Matilda was deployed – alongside an autonomous vehicle called Olli – to transport passengers between Moseley Square and the Broadway Kiosk in Glenelg. Henry organised a team of operators, oversaw their day-to-day tasks and engaged in discussions with clients on how the Matilda and AVs could benefit councils.
"After talking with my engineering friends, it has been highlighted that SAGE is the type of company that gives you the opportunity to dive in deep," he said.
"It really gives me confidence in my work."
Henry took on a similar role in subsequent AV trials in Playford and Munno Para, before taking on even more responsibilities in a further on-road trial with EasyMile.
Expand your knowledge: see 'every side' of your industry
Following his extensive work in future mobility with AVs and smart cities, Henry has recently worked with Intelligent Transport Systems (ITS), particularly with the South-Eastern Freeway Managed Motorway project.
This provided Henry with another opportunity to expand his knowledge across a different area of the transport industry, and he plans on incorporating skills learned throughout this experience in future projects.
"Working with autonomous vehicles and then being given the opportunity to work with ITS – just because I was interested in site work where I really started – is great. I wouldn't mind in the future being able to bring both the knowledge and understanding about future mobility and autonomous vehicles and tying that into ITS."
"I see combining both my knowledge in ITS as well as future mobility to possibly help with designing infrastructure on the roads now that can accommodate autonomous vehicles in the future."
In November 2020, Henry was promoted to his current role of Systems Engineer, which sees him gain experience in bidding and estimating/winning prototype projects, gaining granular insight into how projects are set up and run and how they are executed at a higher level.
According to Henry, "SAGE is a company where the sky is the limit in terms of what you are able to do.
"Where I have excelled at SAGE is that I'm quite passionate in the future mobility, ITS and transport side of things, and SAGE have given me the opportunity to see 'every side' of transport."
Smart. Ambitious. Genuine. Exceptional. Progress your career with SAGE
Explore exciting career opportunities with SAGE and join Henry in helping to create a smarter future, better world.
"I'd like to continue to expand my career in both the transport and smart cities sectors, through my passion for ITS and accessibility, as well as managing a team and helping people. I think there's scope for them all to come together."
"I'm confident that working with SAGE – especially with the support I receive from senior staff members, combined with the approachability and accessibility from the top-down – means I will be confident in my career progression."