LiDAR, C-ITS and SCATS among hot topics at ITS Australia Global Summit 2023
World leaders in transport innovation gathered at the Melbourne Convention and Exhibition Centre this week for the ITS Australia Global Summit 2023, exploring new ways to leverage technology to help accelerate smarter, safer, and sustainable transport.
SAGE Group was proudly in attendance, with members from SAGE Automation's transport and smart cities teams and Addinsight exhibiting in the annual event dedicated to knowledge exchange, discussions, and collaboration in the Intelligent Transport System (ITS) space.
"Events like this are a catalyst in driving positive change, bringing together global transport leaders under the same roof to start conversations, share ideas, and collaborate on new ways to integrate new technology across our road networks," said Paul Markwick, SAGE's Head of Transport, Addinsight and Smart Cities.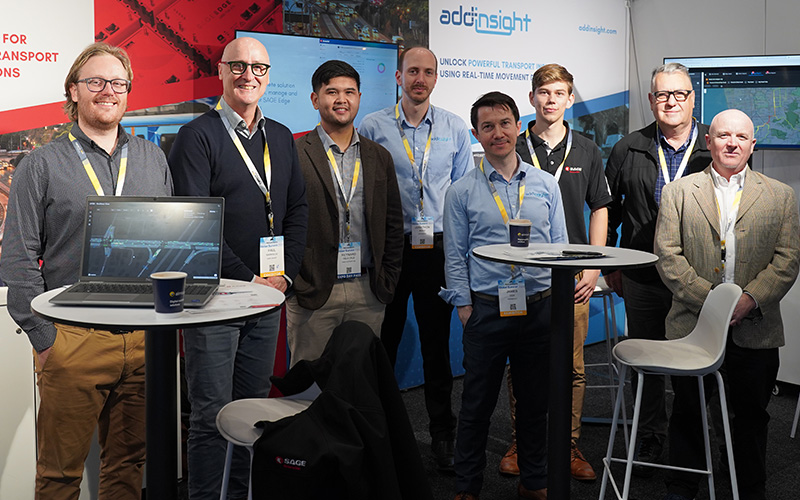 The SAGE and Addinsight team at their exhibition stand at ITS Australia Global Summit 2023.
"SAGE is proud to be at the forefront of several ITS technological innovations in Australia that are poised to have a transformative impact on the transport sector for years to come.
"It was a privilege to showcase some of these exciting use cases at Summit 2023, as well as gaining valuable insights into current challenges and solutions across the industry," he said.
While there were plenty of highlights across the four-day event, we checked in with the SAGE and Addinsight teams to get their biggest takeaways from ITS Australia Global Summit 2023.
Spotlight on LiDAR and SCATS
SAGE's Christian Chong-White presented alongside the Department of Transport and Planning (DTP) Victoria on findings from a recent report that assessed the use of Light Detection and Ranging (LiDAR) technology.
The cutting-edge LiDAR technology enables transport authorities to monitor continuous vehicle movement at high-risk locations such as intersections, allowing real-time visibility into traffic flow information for traffic operation centres.
"LiDAR detects, and deidentifies, all forms of transport, including pedestrians, cyclists, buses, cars, and any vehicle – unlocking unprecedented level of visibility into real-time traffic conditions," Christian said.
"LiDAR is set to revolutionise the transport industry, providing advanced capabilities in live traffic incident management and road improvement planning."
Video highlights from the ITS Australia Global Summit 2023, including footage of LiDAR technology.
Christian also attended the SCATS Networking Breakfast, a tremendous opportunity to connect in person with like-minded innovators utilising the Sydney Coordinated Adaptive Traffic System (SCATS) platform.
Cooperative Intelligent Transport Systems (C-ITS) a hot topic at Summit 2023
Cooperative Intelligent Transport Systems (C-ITS) continue to be a hot topic in transport, highlighted by a fascinating presentation by David Alderson and Nicholas Brook from the Queensland Government's Department of Transport and Main Roads (TMR).
Their talk on the Standardisation of C-ITS Roadside Stations in Queensland and Australia, explored road operators' role in C-ITS to deploy roadside stations that can deliver messages to passing vehicles to improve the drivers' situational awareness – messages such as the traffic light phasing, roadworks, and hazards.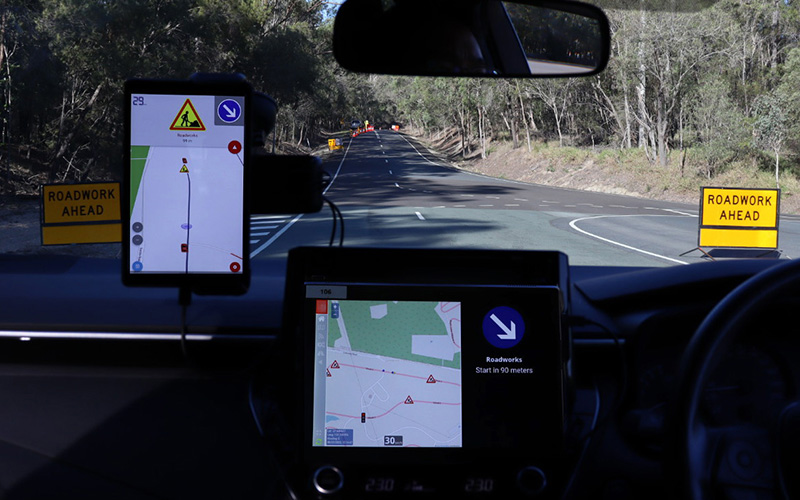 A photo taken on board a vehicle during the TMR C-ITS proof-of-concept showcase.
Featured in the talk was a recap of the TMR C-ITS proof-of-concept showcase for roadworks-specific equipment, where SAGE was part of a small group of industry suppliers who demonstrated industry-leading C-ITS technology to inform future implementation plans for Queensland roadways.
Read more about how C-ITS can deliver critical safety warnings to road users in real-time.
More Summit 2023 highlights
A technical tour of VicRoads Traffic Operations Centre (TOC) added immense value to the event.
SAGE's team had the privilege of exploring the TOCs inner workings, gaining invaluable insights into the current practical challenges and solutions in this complex transport ecosystem – and the notable comparisons between the operating models of a Traffic Management Centre (TMC) and Managed Motorway Centre.
SAGE Senior Project Manager Priscilla Ko-Cheng was most impressed by the collaborative approach to delivering and presenting innovative projects in an impactful way that resonated with audiences, the proactive planning that was evident across the industry, and the strong representation of women in ITS networking.
"It was good to see how companies in our industry are recognising the importance of having a diverse workforce, positioning females in important decision-making executive-level roles, and implementing metrics like female participation targets to promote this," Priscilla said.
For the Addinsight team, Summit 2023 provided an exciting opportunity to connect with hardware vendors and customers alike to demonstrate their new Device Protocol v3: a consolidated platform to manage IoT and ITS devices on a user's transport network.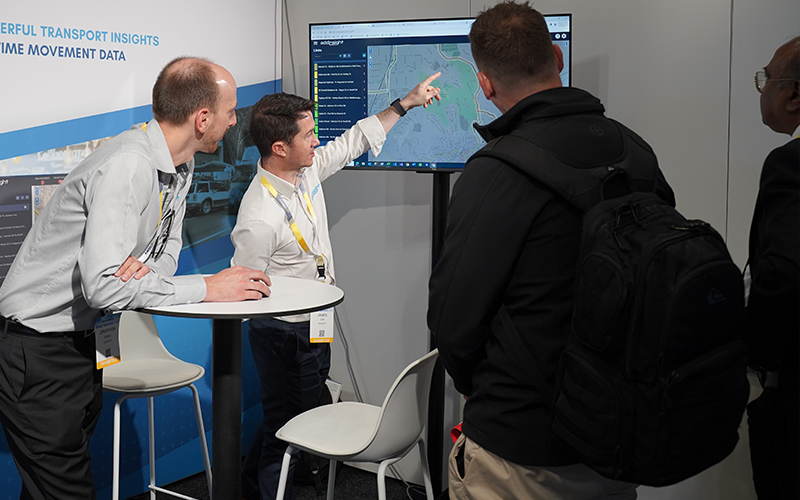 James Cox (middle) demonstrates capabilities within the Addinsight platform at Summit 2023.
The team also had some great discussions surrounding their newly launched Addinsight Partner program, which provides members with access to the device sandbox, allowing them to test against a live system, as well as providing greater support and technical guidance for integration.
"We're excited to launch our new Partner program where we've committed to working closer with hardware vendors to ensure they have the support needed to deliver quality and innovative Addinsight integrations," said James Cox, Product Manager for Addinsight.
Read about Addinsight's new device protocol and partner program.
That's a wrap on Summit 2023
The SAGE and Addinsight team thoroughly enjoyed the four-day event, engaging in highly productive conversations with other worldwide leaders in transport innovation.
Engaging with attendees from diverse backgrounds, including government officials, industry experts, and thought leaders, the team from SAGE and Addinsight gleaned insights, perspectives, and stimulating ideas from discussions that are poised to shape the future of transport innovation.
The conversations, technological showcases, and new relationships that result from events such as ITS Australia Global Summit 2023 are why we love attending and exhibiting our digitalisation solutions.
We look forward to seeing some of you again soon at the ITS Australia Adelaide ITS Business Networking Event!
Stay across the latest transport news, insights and case studies from SAGE by signing up to our newsletter.