Q&A with SAGE electrical apprentice, Ryleigh Hunt
Ryleigh Hunt is a first-year electrical apprentice with SAGE based in the Northern Territory.
First crossing paths with SAGE as part of the Prelude to the Future Program, Ryleigh quickly turned a two-week work placement into a four-year apprenticeship through her strong work ethic and drive to learn.
Earning one of the 10 available positions in the Prelude to the Future Program (delivered in partnership with the Northern Territory Government Department of Industry, Tourism and Trade, GTNT and Charles Darwin University) – Ryleigh made the most of the practical workplace exposure, even dedicating herself to learning one new thing every day.
The Prelude to the Future Program is an apprenticeship training scheme designed to create employment and training opportunities for Territorians by offering a sustainable employment pathway while addressing the recognised skill shortage in Darwin, Northern Territory.
Ryleigh's hard work didn't go unnoticed, earning an electrical apprenticeship with SAGE following her two-week placement. Ryleigh joined us for a chat about her career journey, life as an electrical apprentice with SAGE, and what else she's been up to.
What is your current role with SAGE?
I'm a first-year electrical apprentice with SAGE based out of the Darwin office in the NT.
When did you decide you wanted to be an electrician?
I decided about 18 months ago that I was keen for a career change – formerly, I was a chef.
I completed my chef apprenticeship out of high school. The hospitality industry was great fun and set me up with amazing life skills– however, I decided the lifestyle and work was no longer for me.

I wanted to take on a new challenge and become an electrician.
Going from chef to electrical apprentice is a pretty big change!
Yeah definitely – it is!
But I'm still on my feet all day, using tools, working with a team – so there are a lot of similarities as well even though it's so different.
I spent two weeks of work placement with SAGE and I loved every day of it!
How did you come to join SAGE?
I sought out some work experience to make sure electrical was what I wanted to do.

I applied for the Prelude to the Future Program and was successful in gaining one of the 10 positions available. During the program, we were placed at three different host businesses for exposure in the industry, and I was lucky enough to be placed at SAGE.

I spent two weeks of work placement with SAGE and I loved every day of it! I really wanted to work with SAGE in an official capacity, so I worked hard to prove myself.

Following the program, I was stoked to be offered an interview with SAGE for an electrical apprenticeship and the rest is history!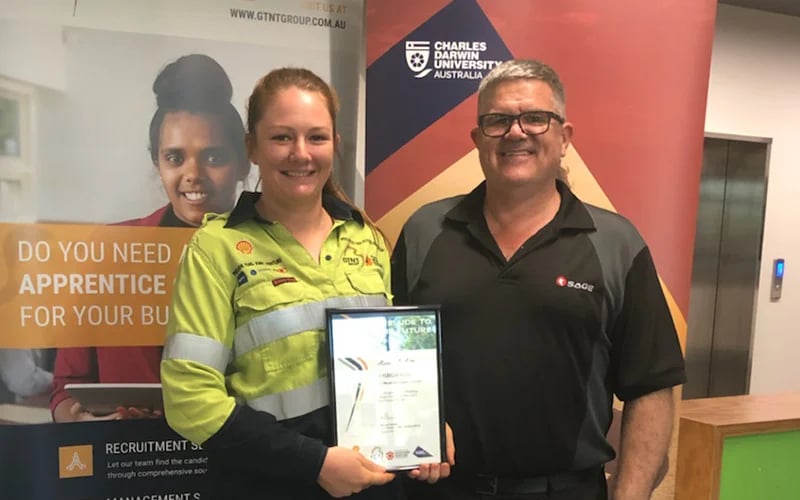 Ryleigh (left) with SAGE General Manager of NT, Andrew Meaney at the Prelude for the Future Program stage 1 graduation ceremony.
What does your day-to-day look like with SAGE?
Every day is different, which is really good!
I head into the office, see my supervisor, Jarred, and he assigns me one of the technicians that need a hand for the day.
If my assigned technician has some admin to do before we head out, that normally gives me time to do the same, helping me stay on top of eProfiling – an online logbook to record my weekly tasks – and emails.
The rest of the day, we're out on-site working. This might include anything from preventative maintenance, inspections, installs, upgrades or breakdowns. Every job starts with a JSEA (Job Safety and Environmental Analysis). We do our best to beat the heat and get the job done.
Every single day I pinch myself and walk out smiling that this is my new career.
What do you enjoy about your current role?
I think I'm really lucky to work at SAGE. I don't believe there are many other companies that can offer this kind of exposure in Darwin, hand-in-hand with a healthy and supportive work environment.

The people that I work with really make it. They know how to manage their workload, have a good laugh and still find time to teach me.
On top of that, the work and exposure I'm getting is just unreal! Every single day I pinch myself and walk out smiling that this is my new career.
Do you have any short term goals?
Yes! My goal is to learn at least one new thing a day.
I learned from my last apprenticeship that if you show up every day and trust the process you come out a well-trained professional.

Normally, it's more than one new thing – so it's going well!
What type of skills have you developed in the role so far?
I'm gradually gaining experience on a range of hand tools, learning how to read and interpret drawings, JSAs (Job Safety Analysis) and safety procedures, and I also learned how to put the cold brew on in the mornings – that's an important job as an apprentice!
Are there any interesting examples of work you have been a part of?
I've been a part of several interesting projects. I've worked on preventative maintenance and testing for Power and Water, and cathodic protection testing– a method used to protect metal structures from corrosion– at Darwin Port.
I've also been working out at Mt Bundey Boral rock crushing plant on a switchboard upgrade with Patrick, a Control System Support Technician in our team. We built a new board, so this was some good exposure.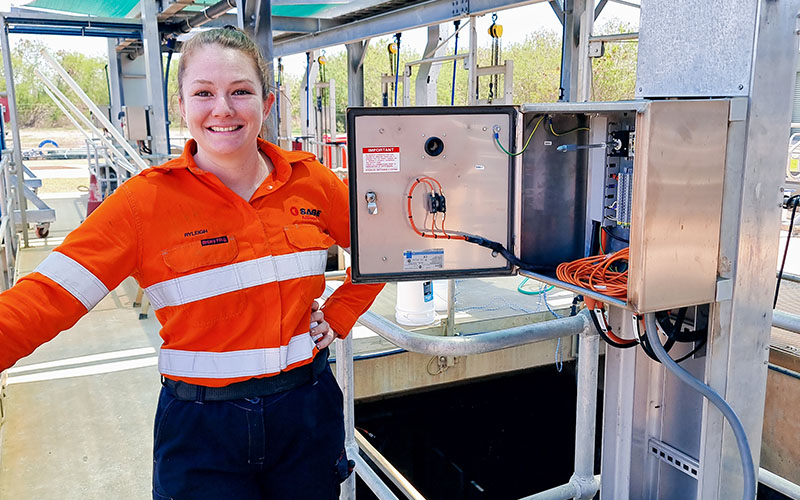 Ryleigh alongside a switchboard while doing inspections at a wastewater treatment plant in the NT.
What do you love about living in the Northern Territory?
I was born in the NT, and I've always lived rural – on five acres.
I love the laidback lifestyle, the roads are light on traffic, and the people are really great.
Why do you think the service industry (including electricians) are important for the NT?
A lot is happening right now [with the weather], it's humid, hot, and sweaty, and the lightning that accompanies the wet season is just around the corner, too. Providing electrical and other services in the NT is important in supporting our local communities in these conditions.

The service industry plays a critical role in keeping vital resources operational and preventing environmental, or hazardous events from occurring. We've also got to make sure we wear our hats and sunscreen, drink plenty of cold water and have breaks!
I'd love to continue carrying on working with SAGE – I think the opportunities are endless.
What are you hoping to progress with after you finish your apprenticeship?
I'm going to do an instrumentation course during the fourth year of my apprenticeship, and I'd love to continue carrying on working with SAGE – I think the opportunities are endless.
I want to keep learning and gaining experience every day and see where it takes me.
Any interesting hobbies outside of work?
I've been solo skydiving as a hobby for the last five years! I've [completed] about 400 jumps and have a "coach" rating.
I love the sport – it teaches you to really live in the moment. It's another industry with endless opportunities.
Apart from that, I love spending time at home. Having five acres just means never-ending things to do!

Better coverage in NT
Ryleigh's contributions are helping SAGE deliver better coverage – with 24/7 monitoring and call-out Australia-wide.
SAGE's local service teams operate in every state and territory – and as an integral part of our growing service team in Darwin, Ryleigh is supporting SAGE in providing better coverage to the Northern Territory.
We can't wait to see what comes next in Ryleigh's journey with SAGE!