Recapping ITS Australia Summit 2022 with SAGE Group
Transport innovators from around Australia gathered in Brisbane last week for ITS Australia Summit 2022, sharing insights into advanced technologies and exciting new initiatives changing the Australian transport industry across a jam-packed three-day event.
Representatives from SAGE Group companies SAGE Automation and Addinsight enjoyed meeting like-minded industry leaders in person at the Brisbane Convention and Exhibition Centre, exploring this year's theme: towards safe, sustainable, accessible transport.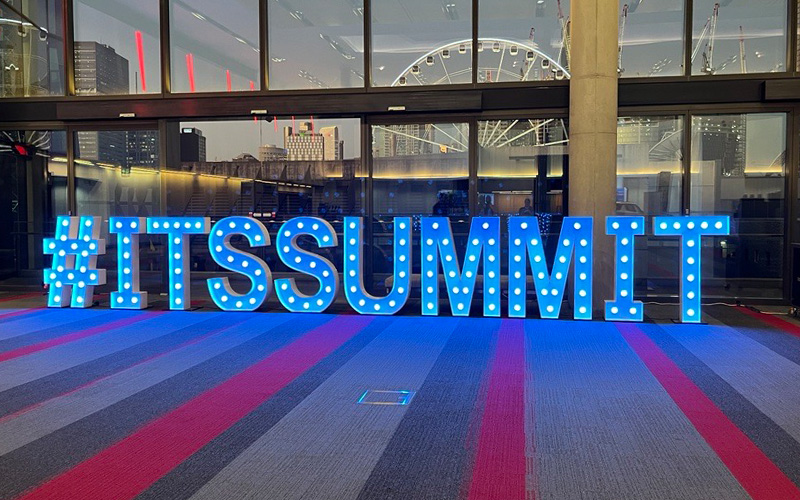 ITS Australia Summit 2022 brought Australian leading transport innovators together across a three-day event in Brisbane.


Intelligent Transport Systems (ITS) utilise advanced information and communications technologies (ICT) to collect information on road conditions, allowing traffic system managers and road users to make data-driven decisions to improve road safety, reduce congestion, and promote sustainability.
As an organisation that delivers many ITS projects nationally for roads, rail, tunnels, airports, ports and local councils, SAGE benefits from attending events such as this to gain industry insights, while sharing learnings and outcomes achieved across recent projects.
SAGE's transport and smart cities teams exhibited at Summit 2022, showcasing several client success stories, including the end-to-end ITS delivery of a Lane Use Management System (LUMS) for the Burnley and Domain Tunnels in Melbourne and a smart school zone to increase school crossing safety for a local Adelaide council.
The Addinsight team demonstrated the software's capabilities, including incident detection and congestion management, transport planning and traffic modelling, and incident alerts.
Acquired by SAGE Group in 2021, Addinsight uses an extensive network of IoT connectivity to provide real-time movement data – which is already delivering value for road authorities in Australia and New Zealand.
If you missed the live demonstration of Addinsight, request a demo online today!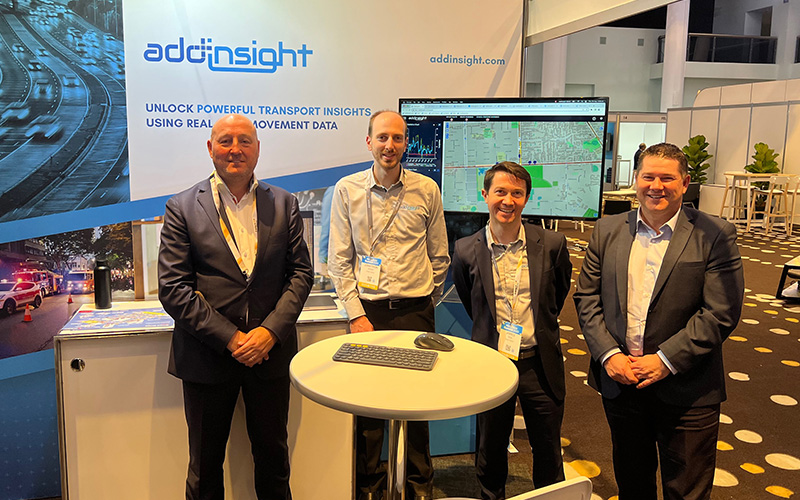 The Addinsight leadership team at Summit 2022 (from left): Paul Glover, Jonathan Rossi, James Cox and Damian Hewitt.


Accessibility and future mobility – a critical area of need in the transport industry and a core focus of smart cities – proved to be a topic of interest among the industry leaders in attendance at Summit 2022.
SAGE Head of Smart Cities and Future Mobility and Head of Addinsight Damian Hewitt says that while accessibility initiatives have had some improvements in recent years, the industry must do more to improve accessibility for all.
"Engaging with people – whether that's individuals in the community, via not-for-profit organisations, or other means – is a great starting point to provide valuable insights into accessibility requirements," Damian says.
"But the next step toward truly making significant change comes through bigger actions from within organisations.
"Employing more people of differing abilities and experiences in our industry is how we can truly safeguard the authenticity of the accessibility conversation, involving users at a deeper level.
"Ensuring the voices that need to be heard are not just the loudest in the room but are also involved in developing solutions that promote accessibility is what will really drive meaningful change."
Among the people actioning such change is smart cities programmer Cassie Hames, one of three SAGE team members to present as part of the Summit 2022 speaking program.
Sharing her lived experiences of navigating transport networks as a person who is legally blind, Cassie provided first-hand insights on accessible and inclusive transport, showcasing a new idea for an application that would support people who are blind or have low vision to catch public transport with more confidence.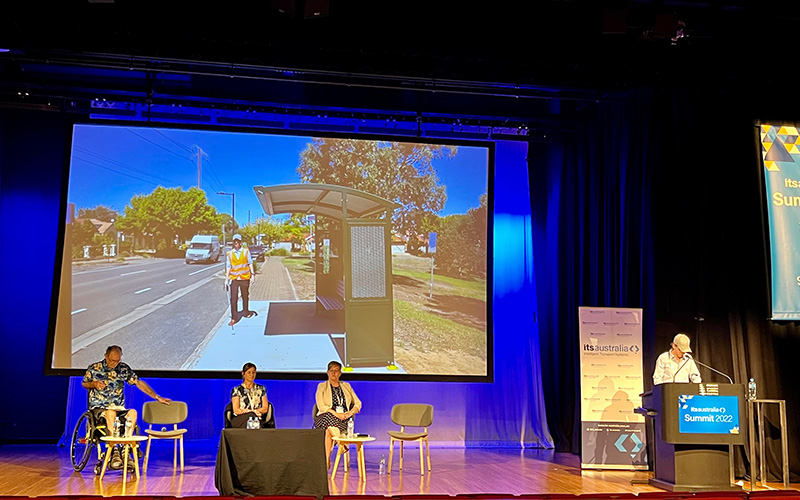 SAGE Smart Cities programmer Cassie Hames presents at Summit 2022.


The app alerts bus drivers when a user is at an upcoming stop, bridging the disconnect between bus drivers and passengers which can lead to people who need assistance being left behind, while it also notifies the passenger, when on board, when they are about to reach their destination.
Cassie submitted her idea to the Holman Prize, where she is currently a top-10 finalist for the global award presented by San Francisco's Lighthouse for the Blind and Visually Impaired that celebrates 'blind ambition', offering a US$25,000 prize to three applicants who are blind or have low vision to achieve a big idea.
"Accessibility in products and designs is usually an afterthought and yet usually the changes that need to be made are something that we can all benefit from," Cassie said.
"Let's change the way we do things and start thinking and including accessibility from the start.
"I invite you to please work with us to make not only this country but this world a more inclusive place for everyone because no one should feel or be left behind," she said.
SAGE and Addinsight are proud to have been involved in Summit 2022 and look forward to attending the ITS World Congress in Los Angeles in September.
Stay in the loop with the most up-to-date project news and industry insights across transport and smart cities.