SAGE Founder Andrew Downs honoured with CSIA's Charlie Bergman Award
SAGE Group Founder and Executive Director, Andrew Downs has been awarded the Charlie Bergman "Remember Me" Award at the Control System Integrators Association's (CSIA) 2023 Executive Conference in New Orleans, Louisiana.
The Charlie Bergman Award recognises an individual who actively participated in association activities, published articles in industry publications, and served in leadership of the association.
"Andrew has supported CSIA for over 20 years with consistent participation, sharing of knowledge, board contributions via staff, and more. Andrew upholds everything Charlie stood for."

Bob Zeigenfuse, Chairman of the Board, Avanceon.
The award memorialises Charlie Bergman, whose defining concept of sharing – knowledge, best practices, key performance indicators – to advance the success of all, is considered the driving force behind the establishment of the CSIA.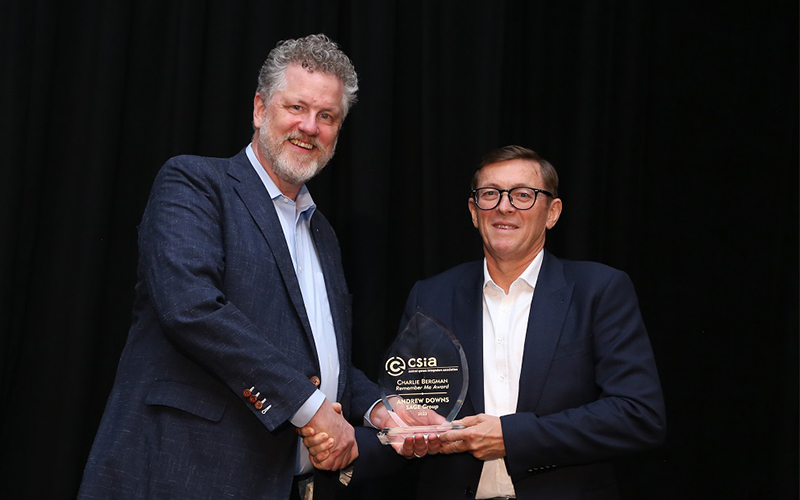 Andrew Downs receives the 2023 Charlie Bergman Remember Me Award at the CSIA 2023 Executive Conference.
When accepting the award, Andrew's speech touched on a few key themes – team, striving for excellence, and enjoying the journey – saying he's excited to see a growing collaborative approach across the wider digital industrialisation space.
"It's an honour to receive this award from CSIA. Every year I attend the Executive Conference, I'm motivated by my peers and the approach to collaboration, and I'm reminded of Charlie's sharing values."

Andrew Downs, Founder and Executive Director, SAGE Group.
"Sharing, learning, and improving together is critical to ensure we continue to drive forward as an industry, and it's a testament to the CSIA that we see collaboration across our industry at an all-time high," he said.
"Being with CSIA for more than 20 years now, SAGE has come a long way since I joined the association! I enjoy every minute of the journey and can't wait to see what's next."
SAGE Managing Director, Adrian Fahey, last year's Charlie Bergman Award recipient, was proudly in attendance to see the award passed on to his friend and colleague.
"Charlie had a strong belief that if you share your knowledge or experience with others, you will receive it back 10 times, and Andrew has lived by this mantra from day one," he said.
"SAGE receiving this award two years in a row is a testament to the collaborative Group approach that Andrew has helped establish in our organisation."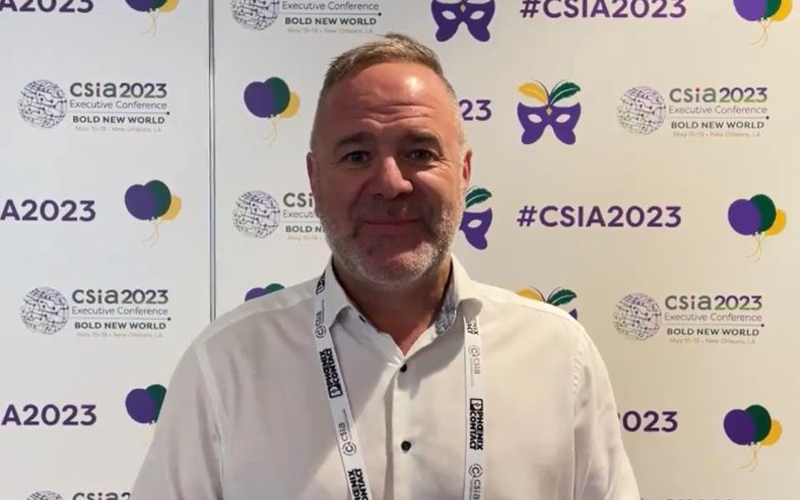 Adrian Fahey at the CSIA 2023 Executive Conference in New Orleans.
The event was the final time Adrian will serve as Chairman of the CSIA, stepping down from the role after serving for the last three years, and the board since 2016.
The CSIA seeks to advance business practices of control system integration, helping members improve their business skills, providing a forum to share industry expertise, and promoting best practices for business management.
SAGE Group is CSIA Certified, having demonstrated the highest level of professionalism and excellence as a control system integrator.