SAGE Group 2021 end of year highlights
From launching an Innovation Hub and a brand-new Darwin office to welcoming Addinsight and TilliT to the SAGE Group family – 2021 was another huge year at SAGE.
As businesses continue to adapt to operating during a global pandemic, SAGE has continued to evolve our product and service delivery. This year, we launched our Digital Key model, helping clients in Australia and around the world with the ability to successfully unlock their industrial digitalisation journey.
SAGE provides the Digital Key to a transformation journey!
Let's take a closer look at some of the highlights from 2021 at SAGE.
Expansion and acquisitions
Darwin office
Construction of our purpose-built SAGE office in Berrimah – housing our 35 (and growing) Northern Territory-based employees – is complete!
Featuring 500m2 of office area and a 385m2 warehouse for storage, advanced manufacturing, and in-house safety testing, it also features a 50m2 state-of-the-art Skills Lab laboratory.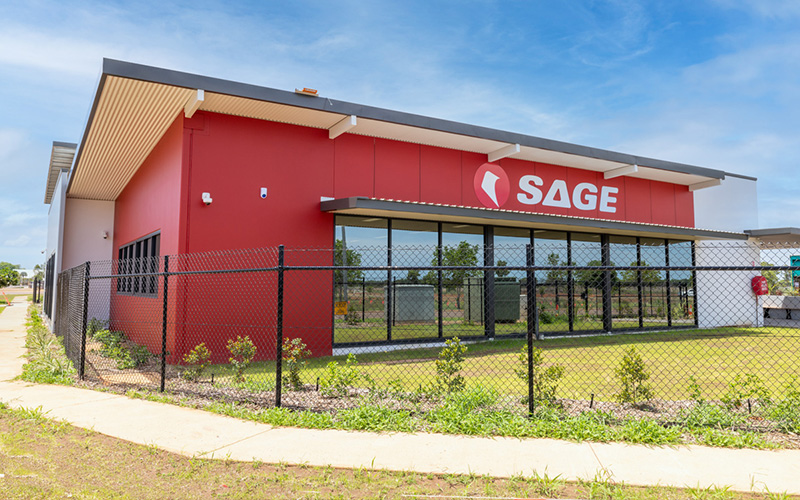 Our new SAGE office in Berrimah, Darwin is now open.
The Darwin office is now open and operational, and we're excited for the official launch in early 2022. Stay tuned for the photos and updates from the opening.
Innovation Hub opens
What better place to open a dedicated facility for innovation than in the Tonsley Innovation District?
Launching in early 2021, the SAGE Innovation Hub is our new home for nurturing ideas and developing new ones, while supporting innovative projects and collaborating with other innovators.
...the Innovation Hub is an avenue to connect people with emerging technologies and solutions in new ways.
– Sam Koulianos, SAGE Head of Innovation.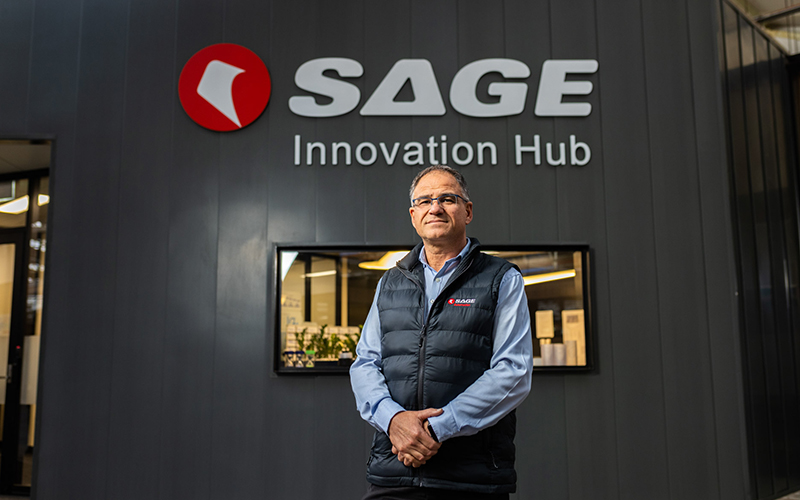 SAGE Head of Innovation, Sam Koulianos outside of the SAGE Innovation Hub at Tonsley.
Addinsight
In a significant boost for our Smart Cities and Transport capabilities, in July this year SAGE acquired real-time traffic intelligence software, Addinsight.
Utilised by the majority of road authorities in Australia and various locations in New Zealand, Addinsight accurately predicts travel times on arterial road networks and reports abnormal delays in real-time.
Since the acquisition, SAGE has commenced work to further enhance the industry-leading software.
TilliT
In great news for manufacturers of all shapes and sizes, this year saw the official launch of TilliT – manufacturing's do-it-all digital platform – which opens new avenues for businesses all around the world to accelerate their digital journeys.
TilliT provides manufacturers a powerful, simple to implement set of digital tools to quickly deploy across the shop floor; orchestrating people, machines, machinery, and tasks.
TilliT CEO, James Balzary provides an overview of the common problems facing manufacturers and how
Smart Manufacturing can help.
Derby Rubber, Lifestyle Bakery and Oliveri are some companies that are already enjoying the benefits of using TilliT to easily plan, execute and analyse manufacturing processes.
SAGE Automation
Smart Cities
The Smart Cities team was busier than ever in 2021, successfully delivering a number of projects as we continue to support transport networks and local councils in providing the best public experiences for their communities.
One major highlight was completing the smart cities transformation of the City of Marion Oaklands Park Precinct, including the installation of a SAGE Smart Digital Kiosk and drawing on a world-first study of real-time playground equipment usage.
Our teams also delivered a smart cities solution for Royal Botanic Gardens Victoria, integrating 13 SAGE Edge units to streamline the process of collecting and analysing visitor numbers and movement trends in their Melbourne and Cranbourne gardens.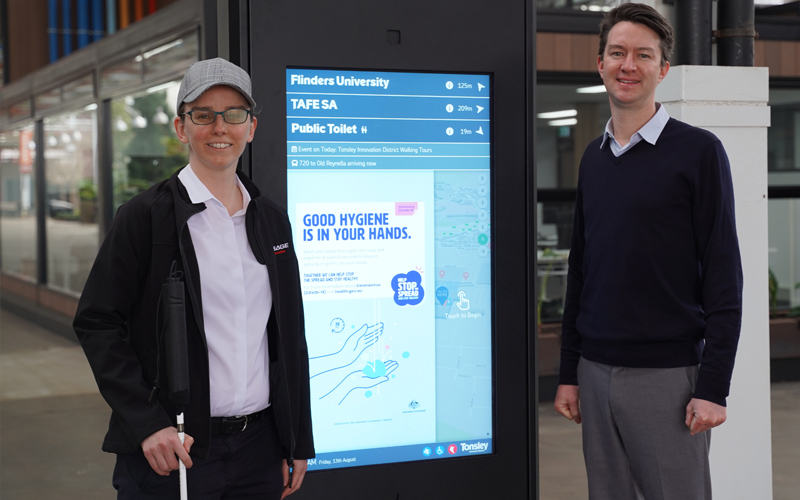 Smart Cities Programmer, Cassie Hames (left) and Technical Lead, Ashby Martin beside a SAGE Smart Digital Kiosk in the Tonsley Innovation District.
The growing Smart Cities team welcomed a new programmer in Cassie Hames. In addition to her extensive programming experience, Cassie's lived experience of being legally blind enables her to provide advice that helps the entire Smart Cities team better understand accessibility requirements.
Energy
In September 2021, the first Hydrogen Technology Cluster in South Australia – SA H2H Hydrogen Technology Cluster – officially opened its new office, located within the SAGE Innovation Hub.
We pride ourselves on being the home of hydrogen technology collaboration in South Australia, and our new office living within the SAGE Innovation Hub is a great example of collaboration happening already.
– Quentin Roberts, SA-H2H Co-Cluster Manager and Founder.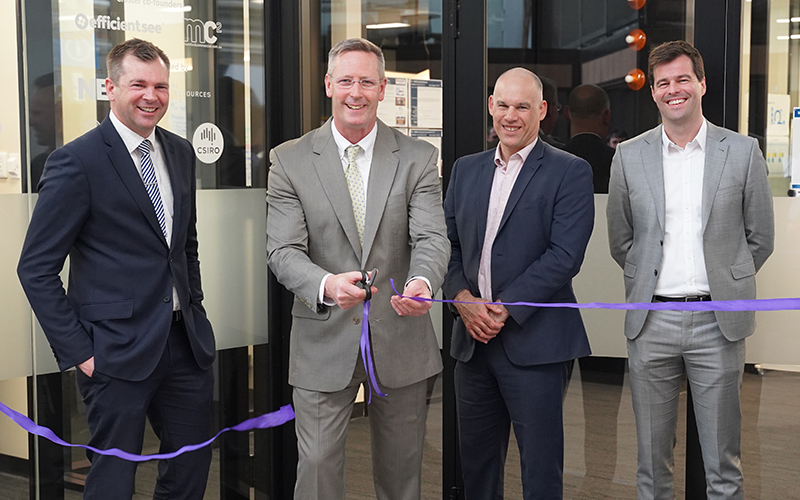 The South Australian Minister for Energy and Mining, the Honourable Dan Van Holst Pellekaan officially opens the SA-H2H office alongside SA-H2H's Quentin Roberts (left) and Nicholas Mumford, and SAGE's Paul Moore (right).
Working collaboratively with other SA energy innovators is crucial in our nation's collective journey towards a hydrogen-fuelled future, and as a founding member of SA H2H, SAGE is excited to support our new neighbour in future projects!
Service
Knowing how important fast resolution is for organisations, this year SAGE launched a brand new intelligent field services system that enables faster field support – leading to more connected downtime resolution services.
The new system allows for simultaneous triage, diagnostics and dispatching of technicians by support staff in SAGE's National Operations Centre (NOC).
An in-depth look at the intelligent field support system at SAGE deployed in 2021.
Faults can be logged on the system through a phone call, email, the SAGE GO App, or connected devices that trigger an automated response where support staff can then leverage the new platform to respond rapidly to customer fault events.
Nukon
A huge year for Nukon included supporting businesses with their data-driven business transformations through an agile and collaborative way of working.
An exciting highlight for the team was the development of a model for successfully predicting the maintenance of critical mining equipment for Newcrest's Telfer mine in Western Australia. Nukon worked closely with Newcrest to develop and implement a data model that enables optimised life, increased throughput and maintained up-time of critical mining equipment.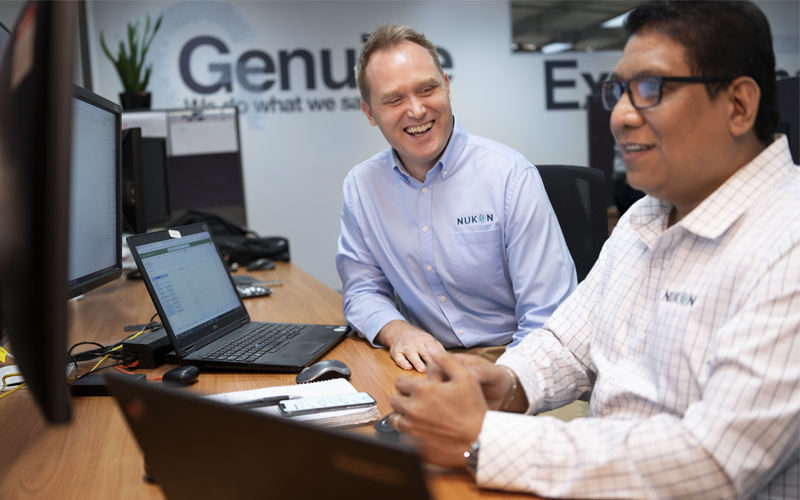 Nukon's Andrew May (left) and Emerson Cabisidan share a moment in our Melbourne office.
We also had the opportunity to present to a global audience at this year's AVEVA PI World Digital conference.
There are techniques available now that can reduce what once took months of work, down to hours. The same techniques allow customers to respond to anomalies in real-time as they unfold.
– Andrew May, Nukon Principal Consultant.
Principal Consultant, Andrew May presented a Nukon Victorian-based water project to the global audience which aimed to detect leaks as early as possible to reduce costs and impacts to the public. The solution involved using Seeq in combination with OSI PI for automated leak detection in the client's networks.
Skills Lab
Our training organisation launched 22 brand-new Micro-Credentials earlier this year and expanded with a purpose-built Darwin laboratory in December.
Skills Lab courses in the Northern Territory will commence in February 2022.
Offering both in-person (pending restrictions) and cyber-physical training for both individuals and organisations, Skills Lab is proud to be increasing the accessibility for Territorians to upskill and reskill industry skills while remaining in the NT.
Skills Lab Executive General Manager, Laura Mabikafola explains the benefits of Micro-Credentials.
Also this year, Skills Lab announced their bite-sized, intensive learning, short course training known as Micro-Credentials.
With 22 Micro-Credentials to choose from – tailored specifically to individual organisations and their requirements – learners can select the most relevant skills for their industry and apply them immediately.
Embedded Expertise
Embedded Expertise continues to grow to support the increasing demand for technical resourcing. After welcoming Anil Chatterjee as the NSW Senior Talent Manager in December 2020, this year Embedded expanded in WA with Simon Costa joining the team, followed by Tudor Morrow in SA a few months later.
Talent Managers source the highest calibre of people for our talent pool and subsequently place these highly skilled experts in the field when our clients need them, quickly.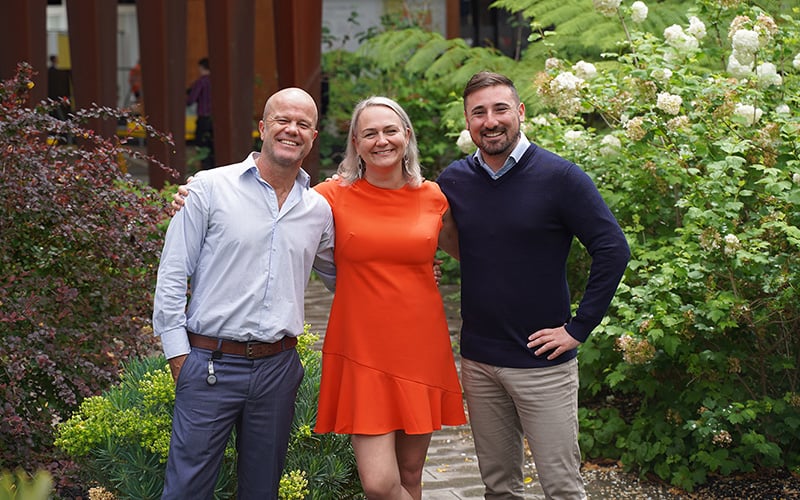 Embedded Expertise's Tudor Morrow (left), Virginia Williams, and Simon Costa
catching up in Adelaide in late 2021.
As we bring on more Experts, they'll continue to get the industry-leading career support of the Embedded Expertise Wellness Program.
Proudly providing support, coaching and wellness initiatives, in 2021 our wellness partner – Proactive Action – launched a smartphone app available to our experts. The app is tailor-made to further strengthen career growth, performance, and development, and features specialist content to further enable our Experts.
SAGE Culture
We Can Program
SAGE employees around Australia continued to engage with their local communities throughout 2021 as part of the We Can Program.
We Can use the unique capabilities, SAGE values and passion of our people to support charitable and STEM initiatives that create a safer, better, smarter, more sustainable and liveable place for those in need and the community as a whole.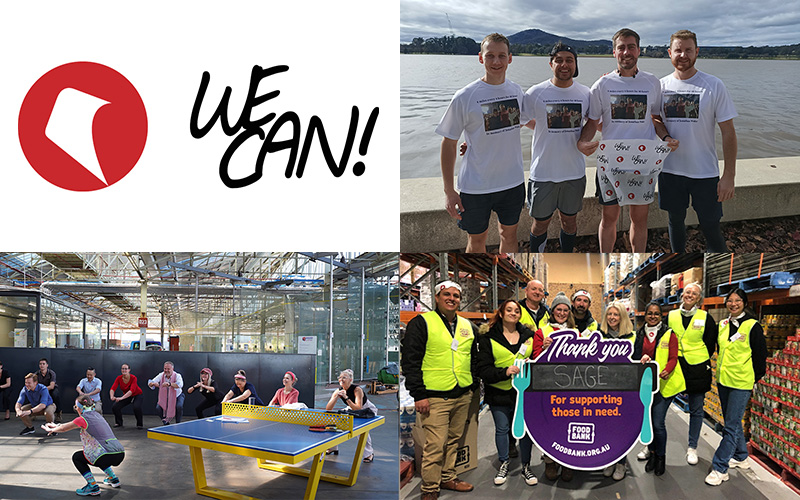 The We Can Program had another successful campaign in 2021 right across Australia.
This year, SAGE employees from around Australia completed the National Breast Cancer 55 Squat Challenge, Foodbank hamper packing, Movember, and the Cure Brain Cancer Foundation 4.4.48 Challenge.
RAP: Reflect
In 2021, SAGE proudly launched our Reflect Reconciliation Action Plan (RAP). We continue to learn how we can influence change and how we can do better, understanding our responsibility to First Nations peoples, as individuals and as an Australian business.
Taking this step was important as we formalise a plan going forward to ensure we're working to further support Aboriginal and Torres Strait Islander peoples.
As part of RAP: Reflect, SAGE Group commissioned Jordan Lovegrove of Karko Creations to produce an
original artwork that embodies the SAGE journey.
Awards & Recognition
NT Young Achievers Award Winner, Harry Carr
A big congratulations to SAGE Systems Engineer, Harry Carr, the recipient of the 2021 NT Young Achievers Award presented by the Australian Industry and Defence Network – Northern Territory (AIDN-NT).
This award is great recognition for Harry's work on complex projects, including the Fuel Farm control system upgrade at RAAF Darwin.
– Andrew Meaney, SAGE General Manager for the NT.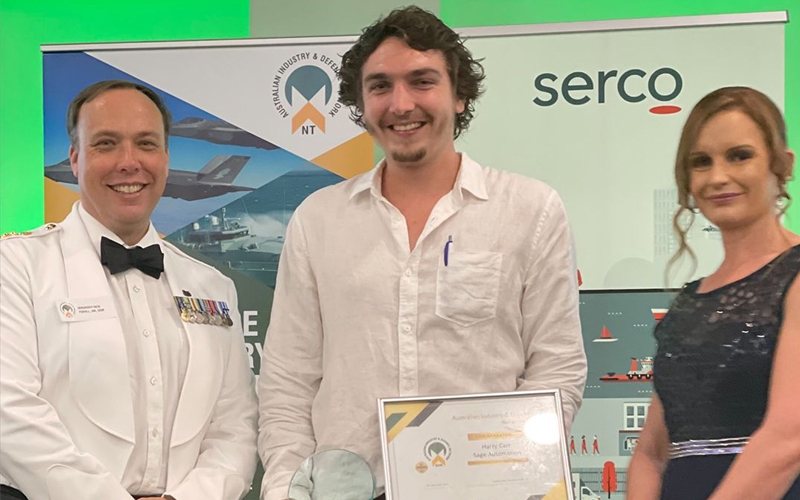 SAGE Systems Engineer, Harry Carr was the 2021 recipient of the NT Young Achievers Award presented by AIDN-NT.
The Young Achiever Award recognises the important contribution of young people in Australia's defence industry, recognising individuals who may be future industry leaders.
We love your work, Harry!
ITS Australia Young Professional Award Finalist, George Funnell
Another young achiever at SAGE is George Funnell, who was recognised this year for his outstanding work in the Intelligent Transport Systems (ITS) space by being named a finalist in the 2021 ITS Australia Young Professional Award.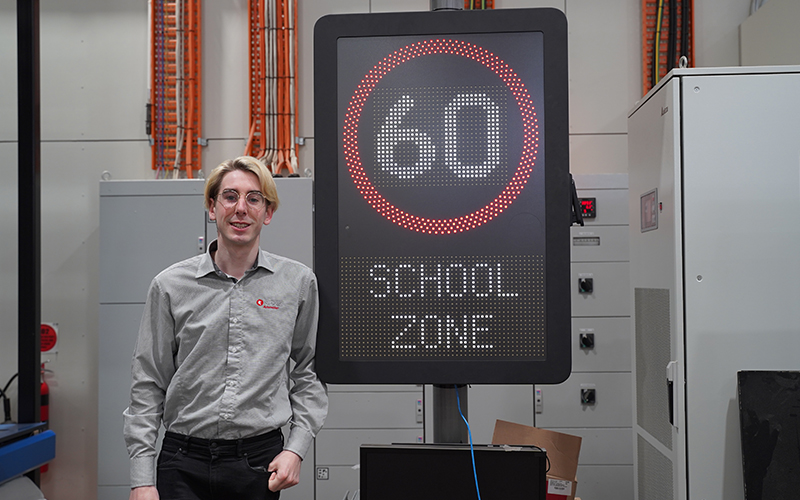 SAGE Systems Engineer, George Funnell is a finalist for the 2021 ITS Australia Young Professional Award presented by ITS Australia.
The award recognises and encourages the passion and positive contribution George has made and is likely to make to the Australian transport technology industry in his early professional life.
The award is presented in February next year, and we wish George the best of luck!
Now for 2022…
We hope you enjoyed catching up on just a few of the highlights across SAGE Group throughout 2021.
It's exhilarating to think that – despite the lengthy scroll you've made down this page – this blog only just scratches the surface of the goings-on at SAGE this year.
To make sure you don't miss a minute of what we have in store for 2022, be sure to subscribe to our newsletter!