SAGE Group sponsors Adelaide ITS Business Networking Event 2023
Intelligent Transport System and aligned industry professionals gathered at SAGE Group's South Australian headquarters at Tonsley this week for the Adelaide ITS Business Networking Event 2023.
Hosted by ITS Australia and this year sponsored by SAGE, the event brings together innovative thinkers across a range of intelligent transport system (ITS) industries to share new ideas and initiatives and to meet like-minded professionals.
ITS a key enabler of safety and efficiency
The Hon Susan Close MP, Deputy Premier of South Australia was in attendance, highlighting the importance of technology in enabling industry and communities alike to be more responsive to the demands of the planet and the need to decarbonise rapidly.
"As difficult as our times are – and they are difficult – there are so many exciting opportunities and, in many ways, this is quite the time to be alive," Minister Close said.
"While climate change is proceeding apace, we are at the same time equipped with so many tools to deal with it and the other challenges of our age – largely delivered to us by our technology and our intellectual capacity to harness that technology."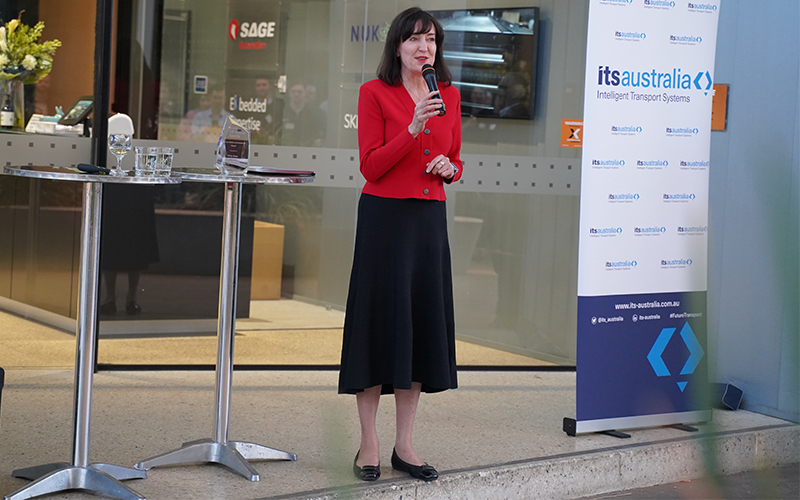 The Hon Susan Close MP, Deputy Premier of South Australia, addresses the crowd at Tonsley.
Echoing this sentiment was SAGE Group Managing Director, Adrian Fahey, highlighting the importance of transport as a key industry to drive change.
"Smarter Future, Better World is where we anchor our purpose around and there is no better way to make a change in the community and the world we live in than through transport and ITS," Adrian said.
"We're incredibly proud as not just a sponsor of ITS Australia but as a key integrator for these systems across Australia and now across the world."
Presentations from Robert Kane, Senior Project Manager, South Australian Department for Infrastructure and Transport, Susan Harris, CEO, ITS Australia, and Ashby Martin, Senior Systems Engineer, SAGE Automation rounded out the evening, concluding with a SAGE Technical Tour across three areas.
1.
Transport |

Projects Overview
Senior System Engineer Russell Hartup delved deeper into SAGE's work across the transport industry, taking participants through some of our latest projects in the ITS space.
One current project highlighted was the delivery of construct services for the supply and installation of a new and upgraded plant monitoring and control system (PMCS) along with the supply and installation of a newly updated ITS.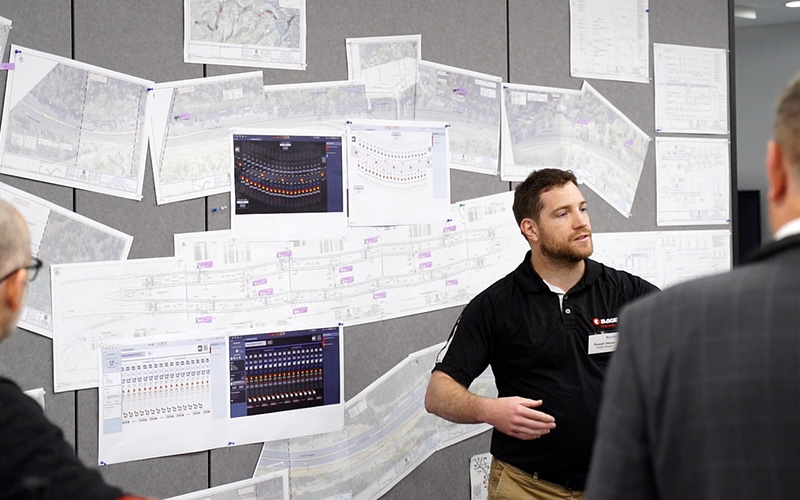 Russell Hartup explains more about SAGE's work in transport during the Technical Tour.
The ITS-managed upgrade for SA's South Eastern Freeway and Lane Use Management System for Melbourne's Burnley and Domain Tunnels are just two examples of how SAGE's smart transport and ITS solutions enhance safety and monitoring capabilities, and fast-track digitalisation.
2.
Smart Cities | LCAWS and ITS Solutions

SAGE's Smart Cities team has been developing IoT-based solutions to bridge the gap between signage and traditional ITS.
"SAGE's Level Crossing Advance Warning System (LCAWS) solution utilises innovative IoT hardware to enhance driver safety and enables lower lifecycle costs than current treatment options available on the market," SAGE Systems Engineer, Daniel Birch-Smith explained.
SAGE's LCAWS solution includes both solar-powered advance warning signs and augmented stop signs, which can be deployed together or individually at a site and are currently being utilised in the NSW Government's Level Crossing Technology Trial.
3.
Addinsight | Device Protocol v3

James Cox, Addinsight Product Manager, demonstrated the software's new device protocol, Device Protocol v3, which aims to simplify the ability to monitor and manage multiple device types through one platform.
Addinsight's software-as-a-service (SaaS) platform provides councils and road authorities with vital information across their network, from incident detection to open data reporting.
The new protocol supports a wider range of devices and data sources to be managed entirely within Addinsight, allowing clients to bring existing devices on their network – such as flood monitoring devices –together in one dashboard view, making it easier to manage different devices on the network and identify if there is a fault or communication breakdown.
That's a wrap on ITS Australia Business Networking Event 2023

Thanks for joining us at Tonsley and to ITS Australia for another great event. The SAGE Group team thoroughly enjoyed answering the many interesting and challenging questions thrown their way and look forward to continuing these conversations in the future.
If you're interested in learning more about the ITS solutions SAGE Group is delivering, our transport and smart cities newsletters are a great way to get the latest case studies and insights.
Click the banner below to sign up.