SAGE launches dedicated hub to support product and process innovation
Innovation now has a new home as SAGE, providing dedicated resources for incubating and developing ideas.
Launched this year, the Innovation Hub is a physical space within Tonsley Innovation District, designed to bolster support for innovative projects that are already underway, and helping to navigate concept and development possibilities for all types of innovators.
The Hub will host a variety of opportunities to collaborate, research and prototype new concepts, and enable the development of new projects.
Innovation that drives a smarter future, better world
Innovation has always been a key pillar of the success of SAGE's customers. Outcomes within SAGE are driven by the idea that there is often a better way.
Some of SAGE's product innovations include key smart city solutions such as SAGE Edge and Matilda, as well as process innovations, including an integration between SAGE's lean lift system and product ordering. Through the hub, this problem-solving capability is something more clients will be able to utilise.
"SAGE's Innovation Hub was born out of our vision to create a Smarter Future, Better World. This goes beyond solving purely industrial problems – we see the Innovation Hub being a game-changer for businesses wanting to tap into our key technology partners, experienced engineers and a team of innovators," said Adrian Fahey, SAGE Group Managing Director and CEO.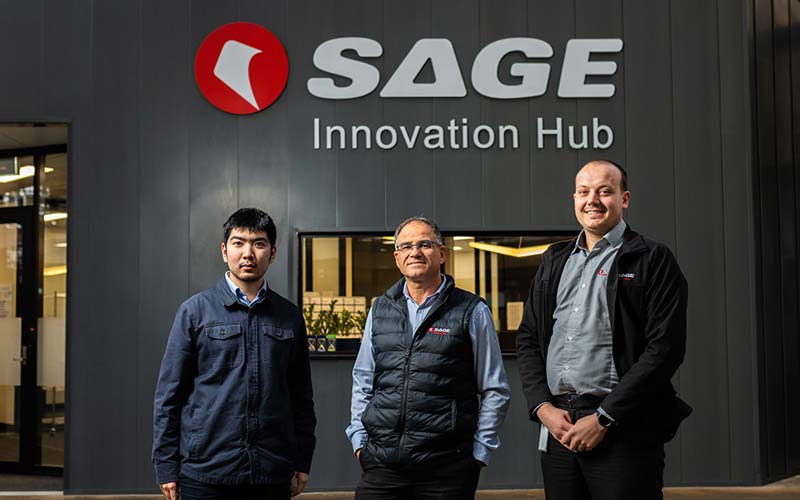 Head of Innovation, Sam Koulianos (centre), pictured with placement student
Wenzheng Lui (left) and Graduate Engineer Ben Korcz (right).
Conceptualising, planning and executing new ideas requires a lot of guidance, and the Innovation Hub will enable businesses without those resources to accelerate and scale their ideas, to connect with support to deliver grant-funded projects or to tap into specialist knowledge to research and prototype.
According to SAGE's Head of Innovation, Sam Koulianos, the Innovation Hub will be part think-tank and part delivery support.
"We're excited for people to learn more about SAGE's research and development capabilities. While they might know our extensive engineering and manufacturing offering, the Innovation Hub is an avenue to connect people with emerging technologies and solutions in new ways," said Mr Koulianos.
Building upon the existing innovation platforms at SAGE, the Hub enables SAGE clients, their teams and our communities to benefit from the best thinking.
A richness in design thinking
The Innovation Hub is a space where diversity of opinion and thinking from a range of disciplines is combined to provide different strategies or viewpoints.
Collaborating with universities, clients, technology partners and vendors will be an important aspect of the Innovation Hub.
The current group of placement students are studying cyber security, computer science, physics, robotics and engineering, and future placements may include new disciplines not traditionally part of the intake at SAGE, such as psychology, business, or science.
"Placement students are very hands-on at SAGE, and that's certainly the case with the Innovation Hub as well. Already we've seen students experimenting with solutions to solve challenges and getting practical project experience such as designing and building a microgrid test rig," said Mr Koulianos.
In addition to drawing on extensive sector-wide experience, the Hub will connect with SAGE's existing innovation platform, enabling the entire Group to engage with and problem-solve client challenges.
The Innovation Hub will have a national reach, with plans to support innovation in other SAGE offices through online platforms and regular collaboration.
Interested in knowing more about the Innovation Hub? Get in touch to learn how we can assist you with your next project.