SAGE wins ITS Australia's Smart Transport Infrastructure Award
SAGE Group has been awarded the Smart Transport Infrastructure Award for work completed by SAGE Automation at the 13th annual ITS Australia Awards, held at the Shangri-La Hotel in Sydney last week.
The Smart Transport Infrastructure Award recognises an organisation for its technology innovation delivering excellence in transport infrastructure and network management.
This year's award has recognised SAGE for delivering an innovative turnkey solution to support road safety across Tasmanian school zones in collaboration with the Department of State Growth (DSG) and the Tasmanian Government.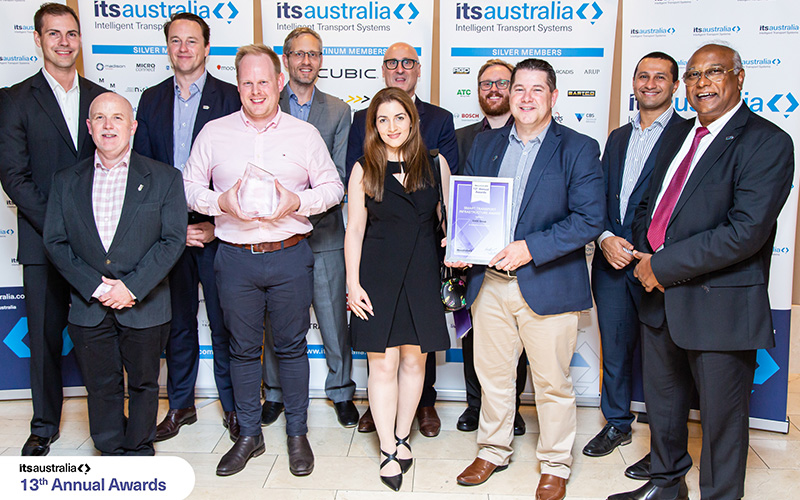 The SAGE team alongside members of the DSG celebrate winning the Smart Infrastructure Award at the ITS Australia Awards night.
Photo courtesy of ITS Australia.
SAGE designed, installed, and commissioned more than 600 advanced school zone signs across Tasmania and King and Flinders Islands as part of the school signage upgrade project with the Australian and Tasmanian Governments.
"Our team is incredibly proud to be recognised for our work in supporting great smart cities initiatives that improve road and pedestrian safety," said Damian Hewitt, SAGE's Head of Smart Cities and Future Mobility.
"The solution is future-proofed for Cooperative Intelligent Transport Systems (C-ITS) and Vehicle to Infrastructure (V2I) communications, enabling a long-term road safety solution in Tasmania while enhancing data-driven decision-making through an added layer of analytics."
Each self-contained, solar-powered, pole-mounted solution consists of an Electronic Speed Limit Sign (ESLS) with an in-built SAGE Edge device, allowing critical information to be communicated with a tailor-made Centralised Monitoring and Management System (CMMS) to enable advanced remote management capabilities.
Along with the new CMMS, the advanced smart school zone signs are compatible with STREAMS and Addinsight – Tasmania's existing traffic monitoring systems – providing real-time data to inform decisions, and enabling the TMC to make instant adjustments to school zone speeds when required and publish important messages to the community via in-built Variable Message Sign (VMS) functionality.
Improving the effectiveness of traditional static signage and Wig Wags, the ITS-enabled signage encourages more drivers to obey school zone rules, maximising driver alertness and safety consciousness.
The smart cities project was delivered in collaboration with HMI Technologies, which developed the electronics and LEDs in the ESLS, enabling the digital connection of the signs with advanced technology.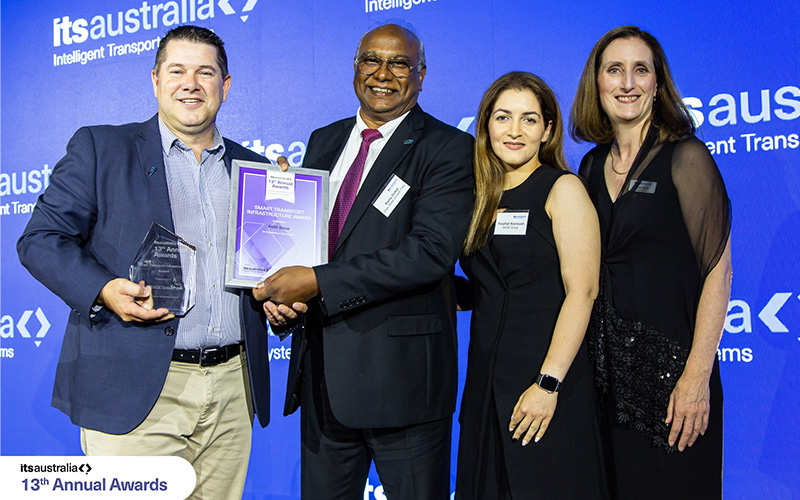 From left: SAGE's Damian Hewitt, DSG's Ramy Gokal, SAGE's Fouzhan Amin Kianoush, and ITS Australia CEO Susan Harris.
Photo courtesy of ITS Australia.
The ability to monitor vehicle detection data at each school zone allows data-driven traffic planning strategies to be developed where required to further manage vehicle movements.
"This highly collaborative project with DSG and HMI Technologies illustrates the benefits of using the latest technologies to build digitally connected communities," Damian said.
"Working together, we've enabled the Tasmanian school zone infrastructure to be ready for the future of C-ITS communications, which is at the forefront of the next generation of innovation."
SAGE was previously awarded the Smart Transport Infrastructure award in 2020, winning for the SAGE Edge device.
Improving safety around school zones has been a focus throughout many states in Australia, with a number of South Australian councils also implementing smart school zones. Read how SAGE implemented a solution for the City of Norwood Payneham and St Peters.