Smart recycling solution kick-starts Containers for Change in WA
The next generation of container sorting machines manufactured at SAGE has been deployed in Western Australia, ahead of the October 1st launch of Containers for Change, the state's container deposit scheme.
Container Deposit Systems (CDS) engaged the SAGE Group and mechanical partner Macweld Industries to develop and manufacture the sorting machines, known as Automatic Redemption Terminals (ART). The terminals are capable of processing aluminium cans, liquid paperboard, plastic and glass bottles in any condition, including crushed containers, or those with missing labels.
SAGE has worked with CDS since the initial development of the terminals began in 2018. SAGE Automation worked closely with the University of South Australia and sister company Nukon to prototype and develop the ARTs, designed to reduce the time taken to sort and refund, improving the user experience for people returning containers.
The ARTs identify and sort containers by integrating Industrial Internet of Things (IIoT) technology and a vision counting and sorting system, which was developed by SAGE, Uni SA and CDS over a two-year period. Since the initial release, SAGE and CDS have continued to refine the design of the terminals, making them more accessible and easier to maintain.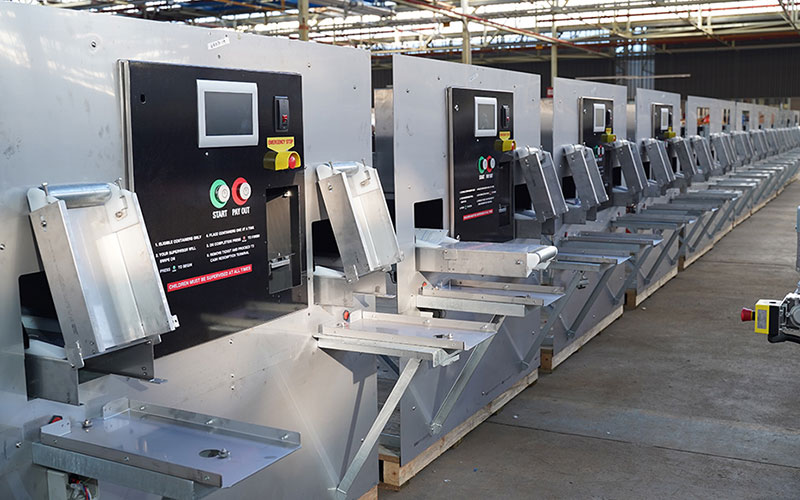 Increased demand for automated recycling solutions sees expansion of SAGE manufacturing
Demand for the award-winning smart container sorting terminals has continued to grow as more Australian states launch their container deposit programs.
SAGE manufactured 40 terminals that have been shipped to depots across Western Australia.
To meet this growth in smart recycling solutions, SAGE expanded their manufacturing footprint, leasing more space within the Tonsley Innovation Precinct in order to complete the final assembly of the sorting machines. Terminals have now been shipped to Western Australia, and SAGE's local service team have been providing on-ground support for the rollout. As interstate travel has been restricted due to COVID-19, SAGE Service in Perth have been critical to ensure the machines are commissioned and ready to go live.
SAGE's National Operations Centre can also remotely monitor the machines from Adelaide, providing the first level of support to depot operators when needed.
The terminals offer a cost-effective solution for depots, and greatly improve the accuracy of the container return process, while also streamlining the returns process for the public.
SAGE Automation's Paul Johnson says the SAGE Perth team have been crucial in the smooth delivery of the automated redemption terminals, with SAGE manufacturing scaling operations to ensure timelines could be met.
"The demand for more terminals led to more work for our manufacturing team, and a need to expand our footprint at Tonsley. SAGE is also providing some great opportunities for manufacturing career development in this innovative area. With COVID-19 impacting travel, we've been able to support our client with the local team on the ground in Western Australia."
"Our work with CDS and our partners is a fantastic example of SAGE's product development and manufacturing capability supporting our vision for a smarter future, better world."
In addition to delivering a unique solution to the market, CDS is also seeing huge positive outcomes for the community.
"Container Deposit Systems has driven improvement in recycling depot productivity by developing an aid to manual count utilising state of the art technology. The convenience and reliability of the system, confirmed through customer feedback, encourages recycling resulting in a cleaner environment. CDS is proudly designed and manufactured in Australia." said Brett Duncanson, Executive chairman, Container Deposit Systems.
Recycling outcomes
In less than two years, the Queensland container deposit scheme has seen more than two billion containers returned, ensuring they aren't taken to landfill.
Beverage containers in Western Australia account for 44 per cent of all litter (by volume), and the Containers for Change scheme hopes to reduce landfill while also creating up to 500 new jobs.
More than 220 container refund points have been established across Western Australia ahead of the program launch.
SAGE's proud history of developing products ensures the best thinking is always at your disposal. Find out more about our product development services.