State Government injects six-figure funding into SA-H2H Hydrogen Technology Cluster
The state government has announced a six-figure funding boost for South Australia's Hydrogen Technology Cluster (SA-H2H), with leading hydrogen innovators gathering on Tuesday to celebrate the new office opening at Tonsley Innovation District.
Over the past few years, National Energy Resources Australia (NERA) have established regional clusters Australia-wide to support the growing hydrogen industry. SA-H2H – which aims to work collaboratively with energy innovators to deliver hydrogen supply-chain scale in South Australia – is the only South Australian Hydrogen Technology Cluster.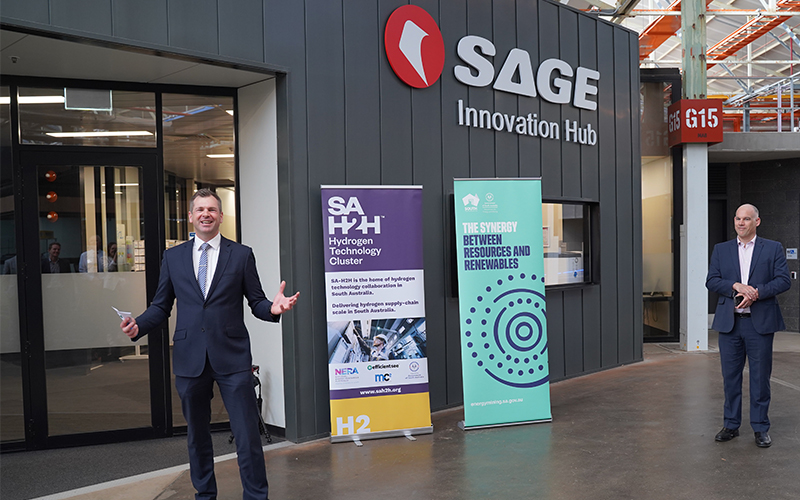 SA-H2H Co-Founders' Quentin Roberts (left) and Nicholas Mumford at the official office opening in Tonsley's Innovation District.
SA-H2H open their office in Tonsley's Main Assembly Building within the SAGE Innovation Hub – a dedicated innovation centre launched earlier this year by digital transformation collective, SAGE Group. SA-H2H Co-Cluster Manager and Founder, Quentin Roberts says that being embedded in SAGE's Innovation Hub embodies the culture of collaboration that the cluster stands for.
"We pride ourselves on being the home of hydrogen technology collaboration in South Australia, and our new office living within the SAGE Innovation Hub is a great example of collaboration happening already," Mr Roberts said.
"Collaborating with established and emerging energy innovators is key in delivering hydrogen supply chain scale in South Australia."
Minister for Energy and Mining, the Honourable Dan Van Holst Pellekaan had ribbon-cutting honours at the special event, where he announced a $100,000 contribution to SA-H2H, matching NERA's six-figure seeding contribution.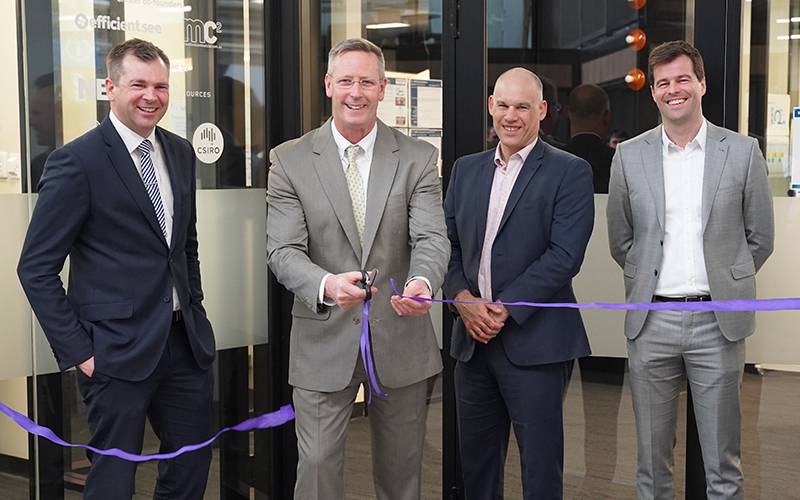 Minister Pellekaan officially opens the SA-H2H office alongside (from left) SA-H2H Co-Founders, Quentin Roberts and Nicholas Mumford, and SAGE Group Head of Energy, Paul Moore.
"[SA-H2H] is the one example where industry is coming together to share experiences, capacity for opportunities and needs," Minister Pellekaan said.
"We see value in all of these organisations coming together to collaborate, innovate, and achieve to support developing the hydrogen economy."
Recent research suggests that the Australian hydrogen export market could be worth up to $10 billion each year by 2040, with predictions of more than 3 million tonnes being exported annually. This forms the reason why SA-H2H are working to establish South Australia on the front foot for the global hydrogen supply chain. Their goal is to establish hydrogen hubs by 2025, build for domestic scale at around the same time, and support export scale by 2030 and beyond.
SAGE Group Head of Energy, Paul Moore says SAGE – a founding member of SA-H2H – are excited to be working collaboratively with other South Australian energy innovators in working towards a hydrogen-fuelled future.
"We see a very close linkage between what the Hydrogen Cluster is bringing to the industry and what the goal of the SAGE Innovation Hub is," Mr Moore said.
"We're really excited to be a part of this initiative as a technology company and see what can happen with innovations in this space."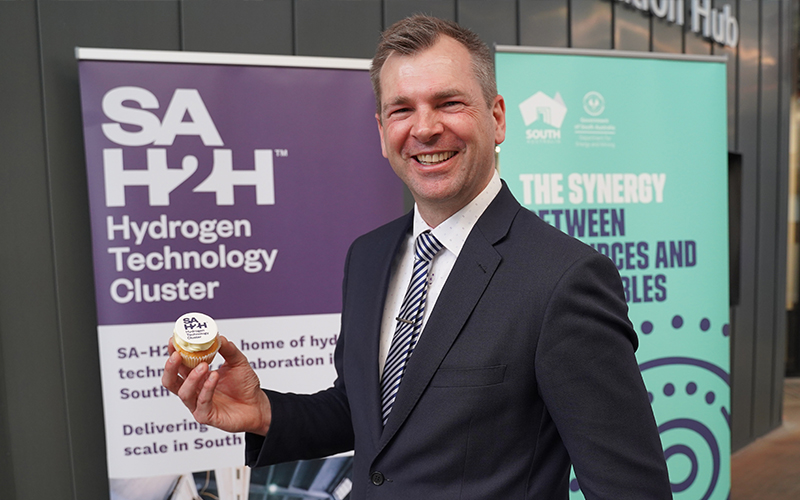 SA-H2H Co-Founder, Quentin Roberts enjoying a custom-made cupcake outside SAGE Innovation Hub.
Innovation and collaboration were the key messages throughout the official office opening, representatives from some of the 30-plus organisations involved with the Hydrogen Technology Cluster attending in person at the SAGE Innovation Hub.
"If there was ever a place to have a head office of an emerging technology industry, it would be here," Mr Roberts said.