The life of a 20 week placement student at SAGE
Have you heard about SAGE's 20 week placement program? Rather than explain it ourselves, we thought we'd hand it over to our recent placement grads to explain all about the program from their perspective.
Spread between SAGE's Smart Transport, Defence and Manufacturing teams, the group of interns all gained practical and valuable hands-on experience in their unique fields.
Read on to find out what they learned and how they found the placement process, below: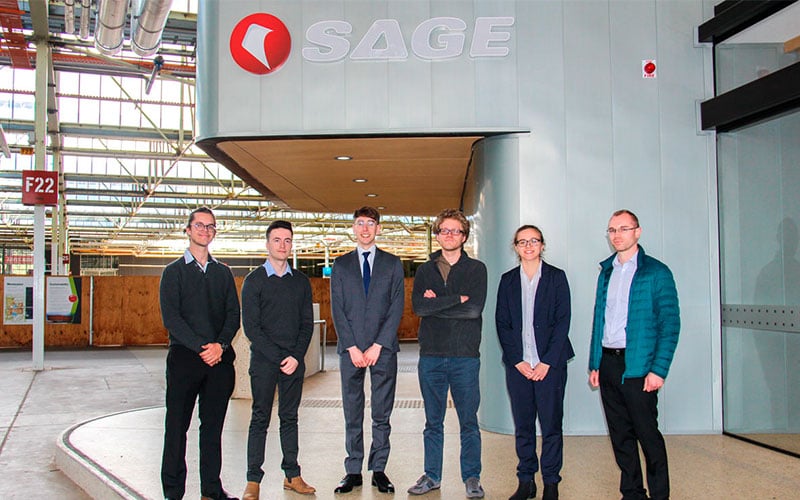 (From left) Joshua Budarick, Lachlan Grose, George Funnell, Reegan McKenzie-Campbell, Maddisan O'Toole, Dakota Harman
Dakota Harman
Dakota Harman came from a US Defence background before being offered a space on SAGE's 20 week placement program.
Working alongside SAGE's own defence team, Dakota assisted with a variety of different projects including SAGE'sContainer Deposit Systems project. This provided him with plenty of valuable hands-on, industry experience such a setting up computer environments and working with PLCs.
George Funnell
George Funnell spent 20 weeks working in SAGE's smart transport department - his first experience working with electronic engineering in industry.
Keen to apply the knowledge he accrued at Flinders University to real-world applications, George was able to develop his practical skills by assisting engineers to solve real transport problems.
He particularly enjoyed the project development stages, and seeing his work come to life.
Lachlan Grose
Lachlan Grose had the opportunity to develop his software engineering skills during his placement, and was fortunate enough to travel to Sydney's Olympic Park to present and showcase part of his work on the Matilda Smart Transport Hub for the International Transport Systems Australia (ITS) Event.
He said the entire experience also taught him the importance of time management and planning skills, while helping him to plan his honours project for 2020.
Maddisan O'Toole
Maddisan O'Toole conducted her 20 week placement with SAGE's manufacturing team where she was tasked with developing the software integration for SAGE's new vertical storage lift.
This allowed her to increase her software engineering knowledge and test her skills through building a software interface.
During her 20 week placement Maddisan also won the Flinders University 'Most Outstanding Showcase Project' for Information Technology and Software Engineering!
Reegan McKenzie-Campbell
Reegan McKenzie-Campbell had the opportunity to test his design skills from the initial drawing phase right through to the final build process via 3D printer.; He also helped the manufacturing team design a mobile enclosure for the cable tester in SAGE's manufacturing facility.
He said he really enjoyed the overall experience and SAGE's strong focus on company culture.;
Can YOU see yourself at SAGE?
Do you like the sound of an industry placement with SAGE? We work with a range of Universities including Flinders and Adelaide Universities. Speak to one of your Uni supervisors if you're interested in applying for a placement with us.
In the meantime, stay glued to our SAGE Group Linked In page, or feel free to check out our current vacancies.